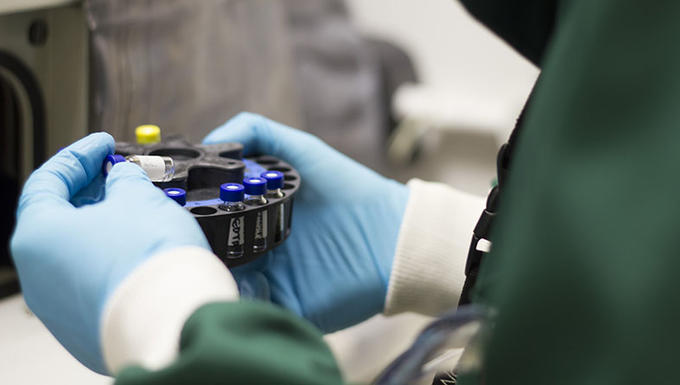 A first of its kind treatment vaccine has moved into a phase I clinical trial for patients with non-small cell lung cancer (NSCLC), under a collaboration agreement between Cancer Research UK and Asterias Biotherapeutics Inc.
Cancer Research UK will manage the initial clinical development of AST-VAC2, a promising immunotherapy candidate derived from a standardised human embryonic stem cell line, which was brought to the charity through its Clinical Development Partnerships (CDP) scheme.
If shown to be safe and effective, it's hoped that AST-VAC2 could be used as an additional treatment for patients who no longer have advanced disease but whose lung cancer is at high risk of coming back, or in combination with other treatments for patients with advanced disease.
Dr Nigel Blackburn, Cancer Research UK's director of drug development, said:
"This vaccine trial is a pioneering approach to improving treatment for lung cancer, the biggest cause of cancer death worldwide.
"By coupling our expertise with a leading biotechnology company, we've accelerated the development of this experimental treatment by years."
The vaccine is made from dendritic cells that are able to kick-start the body's immune system. They present molecules called antigens on their surface and orchestrate a T-cell immune response against cells bearing the same antigens.
AST-VAC2 dendritic cells are engineered to express a modified form of a protein called telomerase, which is almost always present at high levels in various types of cancer cells, but rarely found in healthy cells.
This modified form of telomerase, called hTERT, can stimulate a natural immune response targeted at cancer cells. High levels of telomerase are a common feature of many cancers, so AST-VAC2 has the potential to become an immunotherapy option for other types of cancer beyond NSCLC.
Previous dendritic cell therapies have been made using patients' own cells, but this process is costly, slow and inefficient. By using a pioneering approach of growing mature dendritic cells from a single human embryonic stem cell line in the laboratory, it's hoped AST-VAC2 will overcome these challenges.
Under the agreement, Asterias transferred its innovative cell therapy manufacturing process to Cancer Research UK. The charity's Biotherapeutics Development Unit then developed and qualified the process ready for manufacture in its own GMP (Good Manufacturing Practice) manufacturing facility.
Cancer Research UK's Centre for Drug Development will now take AST- VAC2 through a Phase I clinical trial in NSCLC.*
This trial will demonstrate the feasibility of the manufacturing process at a clinical scale as well as testing whether it's a safe and effective** treatment for patients with NSCLC. Researchers will test blood samples taken at various time points to assess whether the patient's immune system is capable of mounting an immune response against hTERT.
Professor Christian Ottensmeier, chief investigator for the trial and head of the Southampton Experimental Cancer Medicines Centre (ECMC), said: "Vaccines that boost the immune system to recognise and fight cancer could become a routine part of treatment for certain patients in the future, but we need to make them cheaper and easier to produce.
"With its potential to be used off-the-shelf, AST-VAC2 is an exciting development in the rapidly evolving field of immunotherapy."
Michael Mulroy, president and chief executive officer of Asterias Biotherapeutics Inc, said: "The experience and expertise of Cancer Research UK's Centre for Drug Development and Biotherapeutics Development Unit have brought us a step closer to realising the clinical potential of this exciting experimental treatment.  We appreciate the efforts of Cancer Research UK and want to thank the organization for moving this experimental treatment into clinical development.
"In the future, there's also the potential to utilise this novel platform technology to produce treatments that could, in theory, target multiple tumour antigens and thereby treat a whole range of different cancers and tumour types."