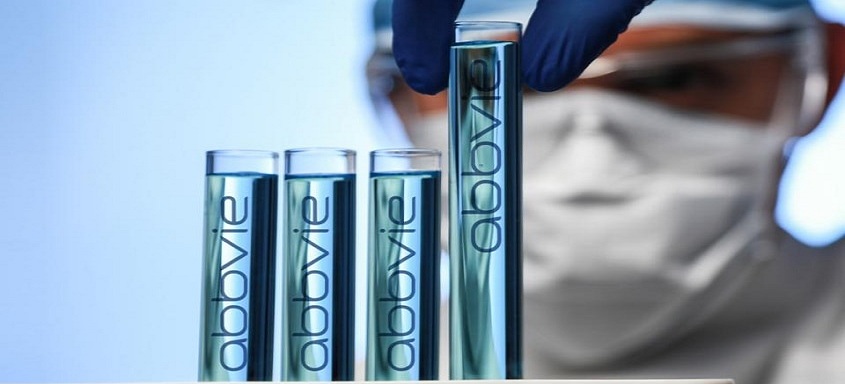 AbbVie , a research-based global biopharmaceutical company, announced an update on a Phase 3 study (DBL3001) of ibrutinib (IMBRUVICA®) in untreated diffuse large B-cell lymphoma , an aggressive form of non-Hodgkin lymphoma.
IMBRUVICA is a first-in-class Bruton's tyrosine kinase (BTK) inhibitor jointly developed and commercialized by Pharmacyclics LLC, an AbbVie company, and Janssen Biotech, Inc.
IMBRUVICA has been available in the U.S. since 2013 and is FDA-approved for use in five B-cell blood cancers, as well as in chronic graft-versus-host-disease for a total of eight FDA-approved indications.
The DBL3001 study evaluated the addition of ibrutinib to a chemotherapy regimen consisting of five different agents used in combination – rituximab, cyclophosphamide, doxorubicin, vincristine, and prednisone (R-CHOP) versus R-CHOP plus placebo. R-CHOP is the current standard of care in newly diagnosed DLBCL patients and provided as a first-line therapy for most patients today. The study was conducted in a subset of untreated DLBCL patients identified to have the non-germinal center B cell (GCB) or activated B-cell (ABC) subtypes of this disease. Patients identified with non-GCB or ABC subtypes typically have poorer treatment outcomes and have greater unmet medical need.
At conclusion of the study, data collected found that ibrutinib plus the chemotherapy regimen, R-CHOP, was not superior to R-CHOP alone, and that the study did not meet its primary endpoint of improving event-free survival (EFS) in the targeted patient population. However, clinically meaningful improvements were observed in a patient sub-population that warrant further analysis. Full results from this study will be presented at an upcoming scientific conference and published in a peer-reviewed medical journal.
"Since its first U.S. FDA approval in 2013, IMBRUVICA has redefined standard of care in many different blood cancers – several of which had little to no treatment options available to patients before," said Thorsten Graef, M.D., Ph.D., Head of Clinical Development at Pharmacyclics LLC, an AbbVie company. "These medical achievements reflect our objective of focusing research where there is great unmet patient need and understanding that the nature of research is such that some studies succeed and others do not. We continue to believe that ibrutinib has great untapped potential as a cancer treatment alone or in combination. Together with our global partner Janssen, we are advancing our robust ibrutinib scientific development program and anticipate results from several studies in the future."
About the IMBRUVICA® (ibrutinib) Clinical Program
IMBRUVICA has one of the most robust clinical oncology development programs for a single molecule in the industry, with more than 130 ongoing clinical trials. IMBRUVICA is being studied alone and in combination with other treatments in several blood and solid tumor cancers and other serious illnesses. There are approximately 30 ongoing company-sponsored trials, 14 of which are in Phase 3, and more than 100 investigator-sponsored trials and external collaborations that are active around the world. To date, 100,000 patients around the world have been treated with IMBRUVICA in clinical practice and clinical trials.
About Diffuse Large B-Cell Lymphoma (DLBCL)
DLBCL is a fast-growing type of non-Hodgkin lymphoma (NHL) that affects B-cell lymphocytes, a type of white blood cell.1 DLBCL is the most common form of NHL in adults, accounting for up to 40 percent of all cases worldwide.2 DLBCL can arise in lymph nodes or outside of the lymphatic system, in the gastrointestinal tract, testes, thyroid, skin, breast, bone, or brain.1 There are two main subtypes of DLBCL: germinal center B-cell-like (GCB) subtype and non-GCB subtype, which includes unspecific and activated B-cell-like (ABC).3 The disease occurs more commonly in the elderly and is slightly more prevalent in men.1
About the DBL3001 Study
DLB-3001 is a Janssen-sponsored, randomized, double-blind, placebo-controlled Phase 3 study, which evaluated 838 patients with newly diagnosed DLBCL, focusing on those with non-GCB/ABC subtypes. Participants were randomly assigned to receive either placebo plus R-CHOP or ibrutinib plus R-CHOP for 6-8 cycles, 21 days per
cycle.
About IMBRUVICA®
IMBRUVICA (ibrutinib) is a first-in-class, oral, once-daily therapy that mainly works by blocking a protein called Bruton's tyrosine kinase (BTK). BTK is a key signaling molecule in the B-cell receptor signaling complex that plays an important role in the survival and spread of malignant B cells as well as other serious, debilitating conditions.4 IMBRUVICA blocks signals that tell malignant B cells to multiply and spread uncontrollably.
IMBRUVICA is FDA-approved in six distinct patient populations: chronic lymphocytic leukemia (CLL), small lymphocytic lymphoma (SLL), Waldenström's macroglobulinemia (WM), along with previously-treated mantle cell lymphoma (MCL), previously-treated marginal zone lymphoma (MZL) and previously-treated chronic graft-versus-host disease (cGVHD).
IMBRUVICA was first approved for adult patients with MCL who have received at least one prior therapy in November 2013.
Soon after, IMBRUVICA was initially approved in adult CLL patients who have received at least one prior therapy in February 2014. By July 2014, the therapy received approval for adult CLL patients with 17p deletion, and by March 2016, the therapy was approved as a frontline CLL treatment.
IMBRUVICA was approved for adult patients with WM in January 2015.
In May 2016, IMBRUVICA was approved in combination with bendamustine and rituximab (BR) for adult patients with previously treated CLL/SLL.
In January 2017, IMBRUVICA was approved for adult patients with MZL who require systemic therapy and have received at least one prior anti-CD20-based therapy.
In August 2017, IMBRUVICA was approved for adult patients with cGVHD that failed to respond to one or more lines of systemic therapy.
Accelerated approval was granted for the MCL and MZL indications based on overall response rate. Continued approval for MCL and MZL may be contingent upon verification and description of clinical benefit in confirmatory trials.
IMBRUVICA has been granted four Breakthrough Therapy Designations from the U.S. FDA. This designation is intended to expedite the development and review of a potential new drug for serious or life-threatening diseases.5 IMBRUVICA was one of the first medicines to receive FDA approval via the new Breakthrough Therapy Designation pathway.